#Job #laws
List of U.S. Employment Laws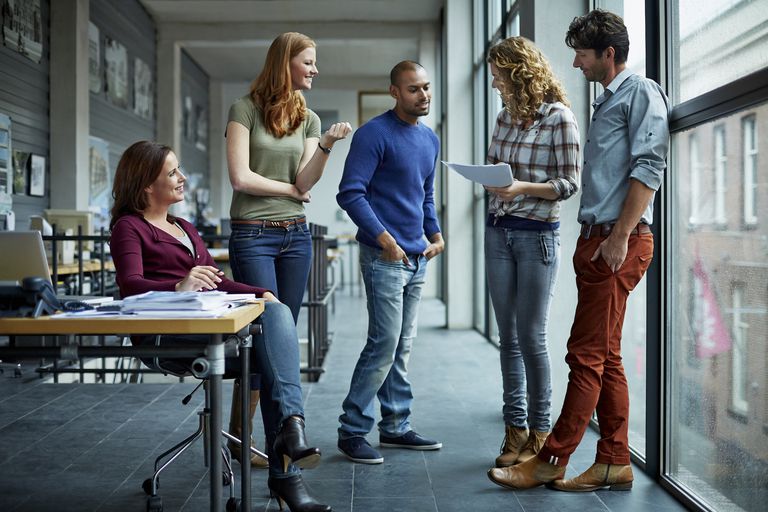 The Department of Labor oversees and enforces more than 180 federal laws governing workplace activities for about 10 million employers and 125 million workers. The following is a list of employment laws that regulate hiring, wages, hours and salary, discrimination, harassment, employee benefits, paid time off, job applicant and employee testing, privacy, and other workplace and employee rights issues.
Significant Employment and Labor Laws to Know
The Occupational Safety and Health Act (OSHA) regulates health and safety conditions in private-sector industries to ensure that work environments do not pose any serious hazards. Covered employers are required to display a poster in the workplace, outlining workers' rights to request an OSHA inspection, how to receive training on hazardous work environments and how to report issues.
The Fair Labor Standards Act determines wage and overtime pay of one-and-one-half-times the regular rate of pay. It also regulates child labor, limiting the number of hours that minors can work.
The Employee Retirement Income Security Act (ERISA) oversees employer s pension plans and the necessary fiduciary, disclosure and reporting requirements. ERISA doesn't apply to all private employers, and doesn't require companies to offer plans to workers, but it does set standards for plans, should employers choose to offer them.
The Family Medical and Family Leave Act requires employers with more than 50 employees to give workers up to 12 weeks of unpaid, job-protected leave for the birth or adoption of a child, for the serious illness of the employee or a spouse, child, or parent, or for emergencies related to a family member's active military service, including childcare requirements.
If the active servicemember becomes seriously ill or is injured in the course of their duties, coverage may be extended for up to 26 weeks of unpaid leave during a 12-month period.
List of U.S. Employment Laws and Resources
The United States has hundreds of federal employment and labor laws that affect employers and employees. Here is a list of resources for some of the most important U.S. labor laws.
Laws Regarding Payments
Comp Time: Laws relating to paid time off in lieu of overtime pay for extra hours worked.
Fair Pay: There are several laws on the books that prohibit discrimination on the basis of sex, including Title VII of the Civil Rights Act of 1964, the Equal Pay Act of 1963 and the Civil Rights Act of 1991.
Minimum Wage: The current federal minimum wage is $7.25 per hour, but many states and metro areas set their own, higher minimum wage. (Some states have also set lower wages, but in these cases, the higher federal minimum prevails.)
Overtime Pay: Hourly workers or those who earn less than $455 per week are entitled to time-and-a-half pay if they work more than 40 hours in a workweek.
Pay for Snow Days: Do you get paid if your company closes because of inclement weather? It depends on many factors, including state and federal law.
Vacation Pay: Federal law does not require employers to offer paid vacation time, but your company may do so anyway. It pays to understand company policy.
Wage Garnishment: Certain types of debt, e.g. tax bills and child support payments, may be collected via wage garnishment. The Consumer Credit Protection Act sets limits and protections for workers.
Hiring and Firing
Employment at Will: The majority of private-sector workers in the U.S. are employed at will, which means that they can be fired for any reason or no reason at all, except discriminatory reasons.
Fired from a Job: If you think you're about to be fired, it's a good idea to familiarize yourself with your legal rights, before you receive notice.
Terminated for Cause: Termination for cause generally relates to serious misconduct, such as violating company policy, failing a drug test, or breaking the law.
Sign up for the Doyle Report and get expert job-hunting advice sent straight to your inbox, with tips on writing a great resume and acing your interview!
Wrongful Termination: If you believe that discrimination was involved in your separation from the company, it's possible that you were wrongfully terminated.
Unemployment Laws: Are you eligible for unemployment? Find out here.
Termination from Employment: Everything you need to know about your rights and responsibilities, if you lose your job for any reason.
Discrimination
Americans with Disabilities Act (ADA): This law makes it illegal for employers to discriminate against job applicants based on disability.
Equal Employment Opportunity: The Equal Employment Opportunity Commission enforces laws relating to discrimination.
Harassment: Learn what constitutes harassment in the workplace and what you can do about it.
Religious Discrimination: Employers cannot discriminate against employees or candidates based on their religious beliefs.
Employment Discrimination Laws: Workers are protected from discrimination based on age, gender, race, ethnicity, skin color, national origin, mental or physical disability, genetic information, and pregnancy or parenthood.
Labor Laws
Fair Credit Reporting Act (FCRA): If you've ever had a prospective employer ask to run a background check, you'll want to know about your legal protections under this law.
Fair Labor Standards Act (FLSA): Also known as the "Wage and Hour Bill," FLSA was enacted by Congress in 1938. It regulates minimum wage, overtime and child labor laws.
The Affordable Care Act – Nursing Mothers: Under the provisions of the ACA, employers must provide nursing mothers with a private room to nurse/express milk, as well as time to do so.
Family and Medical Leave Act: FMLA provides 12 workweeks of unpaid leave per 12-month period for covered employees.
Child Labor Laws: These legal protections restrict and regulate working hours for minors.
Background Check Law: Regulates background checks and the manner in which they can be used during the employment process.
COBRA: The Consolidated Omnibus Budget Reconciliation Act gives workers the right to continue their health insurance coverage after separating from their job.
Drug Test Laws: Depending on your industry, drug testing may be regulated by state and/or federal law.
Employee Privacy Law: Learn how to protect your privacy on the job and during a job search.
Foreign Labor Law: Foreign nationals who want to work in the U.S. must obtain a work visa.
Information Employers Can Disclose: Many employers have policies about not giving away information about former employees, e.g. whether they were fired for cause – but that doesn't mean that they're legally prohibited from doing so.
Maternity Leave, Paternity Leave, Adoption Leave: U.S. employers aren't required to offer paid parental leave, but FMLA provides unpaid leave for many workers.
Youth Labor Laws: Regulates the working hours and conditions of workers under the age of 18.
Other
Employee or Independent Contractor: If your client controls the work that you do and sets the hours in which you do it, you may actually be an employee.
Employment Credit Checks: Learn how credit checks can be used during the employment process, according to federal law.
National Labor Relations Board (NLRB): The NLRB prevents unfair labor practices, in part by protecting workers' right to organize.
Short-Term Disability Insurance: Provides partial pay while the covered person is unable to work. Some employers offer this insurance, and some states sponsor programs.
Social Security Disability: If you're disabled by a qualifying medical condition and have worked at jobs covered by Social Security, you might be entitled to disability.
U.S. Department of Labor: The federal agency in charge of regulating working conditions, wages, hours and overtime pay.
Workplace Violations: Common violations include unpaid wages, misclassification of workers as exempt employees and minimum wage violations.